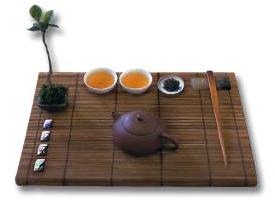 Here you see a complete set of tea ceremony to offer hospitality to guests, relax them and enjoy communication together.
This is the tea ceremony which originated in Japan 500 years ago.
Actually they are tools for Chinese tea ceremony with Chinese tea, which originated in Taiwan based on Japanese tea ceremony.
Currently you can see such tea ceremonies in many parts of the world including China, Hong Kong and Singapore.
They say that you can flush oil out of your body if you drink Chinese tea after meals. This is very good for hackers who love junk foods ;)
The Zen "膳"(Plate or tray) has the same sound of Zen "禅".
You see everything what you need on the Zen, representing harmony.
A teapot at the center can represent a distributor or a server. Two bigger teacups may be users. You can enjoy tea alone but it would be more enjoyable with others.
A smaller cup has dried tea leaves, which may be source codes. You don't eat the tea leaves. You put them in the pot and pour hot water as you do with English tea. But don't put milk and suger.
A chopstick on the right of the Zen is actually a spoon. You pick up the tea leaves with the spoon, which may be a maintainer.
On the left of the Zen there are icons for OOo's applications, which are essential tools for communication and presentation.
Now there is a small tree on the left corner. Please take a look at it closely. It is small but it has detailed features of a big tree. It is art using a plant, which is called Bonsai. It is a live plant. The pot contains soil whose surface is covered with moss. If it is given water and light, it photosynthesizes. This pot plant is a fulfilling world.
Our friends all over the world can gather around it and have good communication. So does it fit to our community.