http://picasaweb.google.co.jp/khirano
The folded object was spirited away.
But God is so kind to give it back to us when we deserve it.
At the same time God is so fantastic or capricious or capriccio that nobody knows where and when it is given back.
I hoped it reappear soon on the stage :)
I got to eat wonderful foods, super drinks and beautiful sweets.
I enjoyed traditional plays, Chunjv, Fishing magic, Kung Fu and acrobats.
The 3m square object didn't reappear on the stage. But I got an idea when I watched the Fishing magic, "He could do it." :)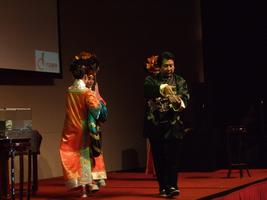 After the show, I went to the dressing room near the door and I tried to ask magician's assistants if they know how he did it and where it is.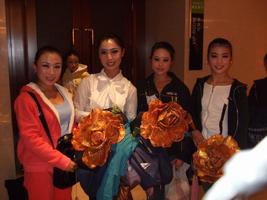 I could have spoken Chinese! I couldn't find them out.
I think he didn't. God did it. I not yet deserve it.
As God is fantastic, who knows where and when it reappears?
Don't get surprised if it reappears on a stage of an opening or a closing ceremony for next year's OOoCon :)
If it reappears near you, you deserve it. Please take a picture and send it to me.
Thank you all for making things happen and possible!