On October 25th
Daito High School
first-year students came to Ichinoseki by train.
They divided into several groups and visited their targeted professionals working in the city.
Readers saw Daito High School students in
my blog about the Chisan Chisho Festa (CCF).
I left
my school
at 9:55, reached
Ichinoseki Library
at 10:00 and met 3 students waiting for me there.
They interviewed me about my profession, translator.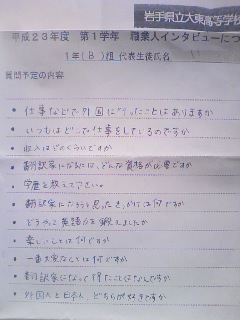 Their questions are :)
1. Have you ever been abroad on business?
2. Where do you usually work?
3. How much do you earn?
4. What kind of qualifications are necessary to be a translator?
5. Can you tell us your educational background?
6. What inspired you to be a translator?
7. How did you train your English skill?
8. What is the most enjoyable aspect about being a translator?
9. What is the most difficult aspect about being a translator?
10. While being a translator, what did you get?
11. Which people do you prefer, Japanese or non-Japanese? :)
After the interview we went up to
Tsuriyama
and had lunch.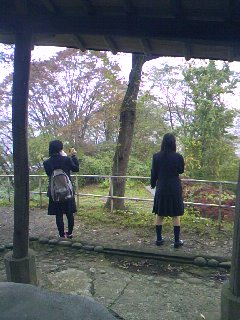 We took pictures of downward view of Ichinoseki and
Iwaigawa river
.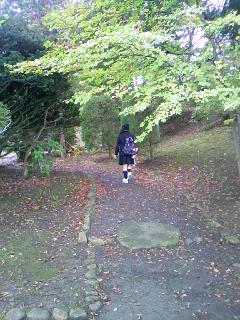 We went through a Japanese garden and then up to the top of Turiyama.
From the top we saw
Ichinoseki train station
and a
Shinkansen
running through.
Please find
my Japanese 5-7-5 syllable format with the same pictures
.